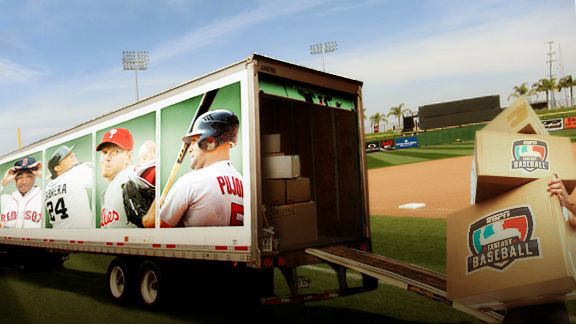 Sportdawgz Fantasy Baseball 2011 is back!
Click the Link above to see the Settings, some things have changed. If you dont like them, we can vote on any changes before we start. Or if you dont like them you dont have to play. Once you pay and the season starts there is no refunds. So make sure you understand the settings and scoring before you pay and we start. Draft Date and Time is set and wont change unless a emergency comes up and I can not make it. Fees and payouts is the same. You must have paypal to send and receive the payouts. Entry fees can be start to sent to me once we have 10 people signed up.
Send money via Paypal to: kcamonkey19@yahoo.comMAKE SURE TO PICK THE OPTION TO SEND AS GIFT! SO THEY DONT TAKE ANY FEES OUT
$20 to Enter

12 Teams

$175 - Winner

$65 - Runner up
Draft: Snake
Date: Sun, Mar 27, 2011
Time: 9:00 PM ET
To Sign up post the following:
Name:ESPN Account email:
(To invite you)
Paypal address:
(So i know who you are when you send in your payment)
Signed up / PAID
1. KCA (YES) - JOINED
2. Osfan (NO) - JOINED
3. Allen (YES) - JOINED
4. Peck (NO) - JOINED
5. Fiz (NO)- JOINED
6. Walsh (NO)- JOINED
7. Stokes (YES) - JOINED8. Speedkills (YES) - JOINED
9. Au (NO) - JOINED
10. Pysko (NO) - JOINED
11. Steweey (YES) - JOINED12. Thomas (YES) $19BOLD MEANS YOU HAVE JOINED AND PAID AND READY TO GOUPDATE: LOOKS LIKE WE HAVE 12 PEOPLE WHO ARE INTERESTED, SO WE WILL GO WITH THESE 12. IF NOT ALL PEOPLE PAY BY THE TIME WE DRAFT, WE WILL GO BACK DOWN TO 10 TEAMS.
Last edited by KCA on Sat Mar 26, 2011 8:57 pm; edited 28 times in total